The reviews you get on Google are among the most powerful tools you have for advertising your business online.
Don't believe us? Here are some stats, courtesy of Moz, that might change your mind:
96% of people read online reviews—with over half reading reviews at least once a week.
98% of people who read reviews consider them a signal for whether or not they trust a business—with 33% of them considering reviews the most important signal.
79% of respondents said that Google is their number-one source for reviews.
It's not an exaggeration to say that basically everyone reads reviews and uses them as a way to determine whether or not a business is worth their time.
Google reviews show up in Google Search and on Google Maps. They're a key part of the Google local search algorithm, too—so whenever you get a Google review, it builds trust with consumers and Google.
To succeed online, your business should be generating as many positive Google reviews as possible. In this article, we'll teach you how.
Generating More Online Reviews on Google
When people look at Google reviews to determine whether or not your business is worth their time and money, they'll generally take three things into account:
How positive your Google reviews are (customers love four and five-star businesses)
How many reviews you have (more reviews mean that you're more popular and that the reviews are less likely to be fake)
How often your business gets reviewed (the least important factor, but more recent reviews keep potential customers up-to-date).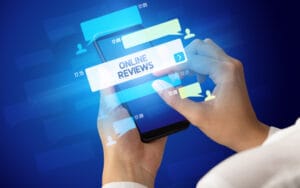 As we've established, Google reviews can dramatically boost growth. You can generate more Google reviews by taking a few steps:
Creating and optimizing your Google Business Profile
Including a review link in communications with your customers
Asking customers to leave Google reviews the day they shop with you
Responding to each and every review you receive (even negative ones)
Following these steps isn't just best practice for encouraging customers to leave reviews—it's also a great way to boost search engine optimization (SEO). Your Google Business Profile is one of the most important local SEO ranking factors—that means an optimized Google Business Profile with a lot of positive reviews will make your business more likely to appear on Google's search engine results pages (SERPs).
Managing Your Business's Reviews
Generating reviews alone isn't enough—you need to manage your Google reviews in order to:
Understand which review-generating strategies are working—and which strategies aren't
Respond to new customers reviews
Turn negative reviews into positive reviews
Catch spam and fake reviews before they affect your business
Responding to each and every Google review you receive can seem daunting—especially once you start receiving dozens of reviews each week. The trick is to respond to every review as soon as possible—it's a good idea to set aside some time at the end of each day so you can respond to every Google review within 24 hours.
You need to respond to both positive and negative Google reviews—your best bet is to encourage anyone who leaves a negative Google review to contact you personally so you can rectify their problem (and try to turn their 1-star review into a 5-star review).
Remember, though, that a good review generation strategy will net you more positive and negative Google reviews. Have faith in your business—the good reviews should outweigh the bad ones. With Rep.co, you can increase the velocity of positive Google reviews while instantly bringing bad reviews offline—more on that later.
Dealing With Spam and Fake Reviews
Anyone can leave a Google review. That's usually a good thing—local businesses want their reviews to come from any customer who visits them, not just from verified Google accounts.
The downside of this system is that nefarious actors can leave Google reviews just to mess with your business—a tactic competitors will sometimes use in order to dissuade customers from visiting you.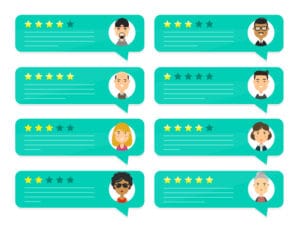 There are a few tells that a review might be fake:
The reviewer hasn't made any other reviews (or has made very few other reviews)
The reviewer's name or account is associated with a competitor
The reviewer leaves a lot of exclamation marks or uses overly simple terms
You don't recognize the reviewer's name (this is a great one for service-based businesses like hair salons or plumbers, where you'll know your customers' names)
The review doesn't have any comments attached to it (a blank 1 or 2-star review)
When you get a Google review that you think is fake or spammy, you can go onto your Google Business Profile to flag it. Google will ask you for the reason that you're flagging the review—answer its questions.
Finally, respond to every review calmly and courteously—even fake ones. Users who are looking for a local business to buy from won't know that a review is fake or real—so be polite at all times!
How Rep.co Can Help Generate and Manage Your Google Reviews
Rep.co can help you generate more reviews, manage your reviews, and deal with fake and spam reviews. Our software was developed with a few goals in mind:
To help business owners to better promote their business online through reviews
To help you manage your online reputation
To make monitoring and responding to reviews easier
To generate more positive reviews for your business
Through our dashboard, you can monitor the number of Google reviews you've received, sort them by star rating, and even compare month-to-month review velocity (the number of Google reviews you're getting each month).
Our review generation suite allows you to request reviews from customers automatically, either by SMS or through e-mail. You can also set review management thresholds so that it's easy for your customers to post a positive Google review while negative reviews will be sent to an internal channel for you to handle.
Rep.co also allows you to monitor reviews through notifications, making it easy to respond to new reviews quickly and efficiently. We've also integrated a widget to help you market your reviews on your own website—great for building trust and boosting your conversion rates.
Online reviews are an essential part of the local search ecosystem—customers use Google and other search engines to find businesses they'll love, and they do that by looking at reviews. With Rep.co, online review generation and management have never been easier. Try our platform—we know you'll love the results.
Frequently Asked Questions
Where Do I Find My Reviews on Google?
You can find your Google reviews in your Google Business Profile—they'll also appear in Google Search and Google Maps when you look up your business.
Do Google Guides Get Paid?
Local Guides are not paid—unless you consider getting a shiny virtual badge "payment". Local Guides earn points and levels, but they can't be redeemed for anything. There's a good reason for this—paid reviews can't be trusted, and people would be encouraged to spam reviews for money. By making reviews unpaid, Google aims to reduce bias in its reviewing system.
That's not to say that some businesses won't encourage high-ranking Local Guides to visit their business—for the most part, though, it's all above board. Some reviewers might use their Local Guide status to boost their own personal platforms. Additionally, Google sometimes offers early access to features to its Local Guides.
Can I Pay for Reviews?
Can you pay for reviews? Yes.
Should you pay for reviews? Absolutely not.
Paying for reviews is against Google's Terms of Service—you can end up taking a serious hit to your rankings or even become blacklisted.
That doesn't mean you can't spend money to get more reviews, though. Paying for reviews directly is not allowed, but asking for reviews is expected. Software like Rep.co can help you increase the number of reviews your business gets and reduce the number of negative reviews—and it's all well within Google's TOS.
Am I Able To Share Reviews on My Site?
You can! Google has created an API for review data, and this allows you to embed your Google reviews onto your website. We highly encourage you to embed Google reviews onto your site—they can help you establish credibility, and these plug-ins can be great for SEO.
We think embedded reviews are so useful that we've included a review widget as part of the Rep.co package. We'll help you get more reviews, then proudly display 5-star reviews on your website—and it's all as easy as can be.
How Many Reviews Are Enough?
You can never have enough reviews on Google.
Google checks both review quantity and review velocity—that's how quickly reviews are being left. High review velocity means high engagement, and a high review count means more information for Google's users. The most famous businesses may have thousands of reviews—that's an indicator of popularity.
In short, get as many positive reviews as possible—it can have a huge impact.
Can I Stop People From Leaving Negative Reviews?
You can't stop people from leaving negative reviews—but you can take action to dramatically reduce the number of negative reviews you receive.
We're not just talking about excellent customer service—even the best in the business will get negative reviews sometimes. The goal here is to take negative energy offline, so you can deal with it in person. With our review software, negative reviews are transmitted directly to you instead of being posted on Google.
Though we can't stop them from going on Google later and posting a negative review, our software tunnels a huge number of negative reviews directly to you, keeping your reputation intact.
Can I Find Out Who Wrote a Review?
That depends—did they leave their name? If they did, you're in luck—you know who wrote the review!
Otherwise, you're out of luck—when someone leaves a Google review anonymously, Google protects user privacy pretty fiercely. That's a good thing (for the most part), but it can make it difficult to sniff out where fraudulent bad reviews might come from.
Don't worry too much about finding the source of a fake review—just flag it and move on.
Why Can't I See My Reviews?
There are a number of different reasons why reviews might be missing. You might not be able to see reviews because:
Your Google Business Profile is unverified
Your Google Business Profile has violated Google's policies
The review was posted on a duplicate Business Profile
You may not be able to see reviews for other reasons. There are times when specific reviews might be missing because the reviewer has violated Google's content policies.
Do I Need To Respond to Reviews?
Responding to all customer feedback is best practice—and that includes reviews. By responding to all of the Google reviews on your profile, you tell customers and Google that your business is active—and that you care about user feedback.
By responding to a positive review, you give the reviewer a bit of encouragement for the positivity they sent your way. That gives them more motivation to become boosters for your business and may incentivize them to visit your establishment more often.
Responding to negative Google reviews can help you turn them into positive reviews. We've created a guide to responding to negative reviews—it'll help you turn unhappy customers into loyal fans of your business.
Can I Delete Reviews?
Deleting Google reviews on your profile is impossible (unless you posted the review). You can, however, flag inappropriate or false reviews.
Other Google users can also report inappropriate or false reviews—over time, any obviously false reviews often become flagged enough that they'll be deleted by Google. Flag and move on is the best strategy for these types of reviews.